Svjetionik Mulo/Lighthouse Mulo
The "Jugo" is mostly warm and moist southeasterly wind. It comes from Otranto and creates large,long waves. It develops slowly over 24 hours and blowing up to 5-6 days. Air pressure drops and there are many low rainy clouds. It can develop into stormy south wind without raining. During the summer occurs as local wind, mainly in the southern Adriatic.
The "Jugo" offers a particular experience to dynamic navigators, enabling the sailboat to reach high speeds. Additionally, fish usually bite well during this weather.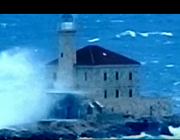 Facebook
Provjerite dostupnost u našem kalendaru:

Crvena označena polja - nisu dostupna, rezervirano
Naš smještaj predstavljen je na svim glavnim platformama i aplikacijama:
Usporedite cijene




PREDNOST:




Direktno kod vlasnika




Bez agencijske provizije




Uštedite do 20%




Popuni formular




Rezervirajte sada